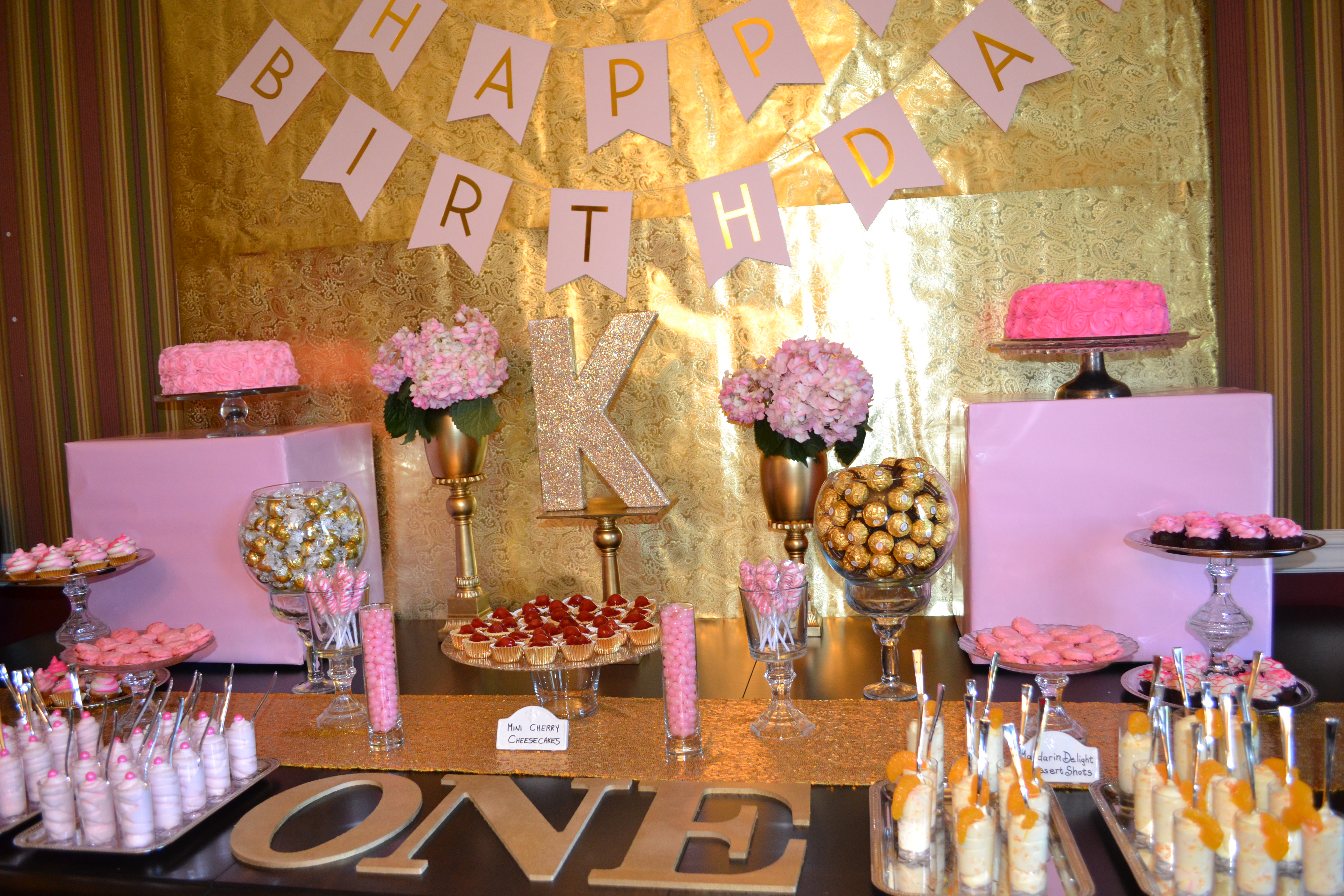 Pink and Gold First Birthday
Pink and gold is such a beautiful combination of elegance and femininity that makes it a perfect choice as a first birthday theme for the little princess in your life.


Rosette cakes are so easy to decorate. I did this one with a chocolate bottom layer, strawberry filling and yellow cake on top. The icing is a vanilla buttercream made just thick enough to work for piping on the rosettes and gel food coloring promised perfect color without altering the consistency of the frosting.

Mini cupcakes…gotta love the tri color swirl…even if they look more befitting of a unicorn birthday party!

Mini cheesecakes can be made in mini muffin pans with liners by placing a Mini Nilla Wafer in the bottom, adding the cheesecake mixture and topping it with a scoop of cherry pie filling. Cupcake liners can be selected in the color or pattern to match your occasion. Easy and delicious ~ Voila!

The addition of candy to your table is a nice touch for interest and variety but also to simplify things. There are enough things to be baked, frosted, shaped, and decorated already as it is, so it is really nice to have some tasty treats that won't require any extra time in the kitchen.
Here I used large pedestal bowls I made from glassware I had around the house (more on that later) and filled them with Ferrero Rocher and Lindt White Chocolate Truffles. Let me tell you, it took a bit more chocolates than I expected in order to fill these bowls but a gold piece of tissue paper crumpled in the center on the bottom took up some of the space and saved us from having more leftovers than even a chocolate lover knows what to do with – perfect solution.
I also added some fruity jelly beans in a perfectly coordinated pink and some strawberry twist candy pops on the side for the kids, but the candy options you could use are nearly endless really.